Team Bios
As a Financial Advisor for Northwestern Mutual, I am committed to helping my clients whether they are concerned for their own financial needs or those of their family or business. I don't do it alone. Here you will find a listing of the people who help make it happen.
Together, we stand committed to providing the best customer service possible. If you have a problem or need assistance at any time, please let us know.
Elizabeth Wolf
Chief Marketing Officer
202.403.2581
 
Liz Wolf joined our team in 2014 and serves as the Director of Marketing. Liz has 13 years of financial services experience in both DC and Chicago. In her role, she develops and implements our team's marketing strategy. Liz earned her BA from Villanova University and her CLF designation from The American College. She resides in Northern Virginia with her husband and two young children.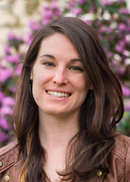 Katie Anderson
Associate Wealth Management Advisor
Office 202-600-7100

Prior to starting as an associate with Randolph, Katie gained much of her industry experience as an investment specialist working with The Vanguard Group at their headquarters in Malvern, Pennsylvania. While at Vanguard, Katie assisted as a primary point of contact for many of Vanguard's investment clients from around the globe.
Personally, Katie is a proud native of Philadelphia, and studied at Haverford College. In fact, she is still the Haverford College record holder of the mile and 800m runs, and still loves to run competitively in her free time. She also enjoys travel and had the opportunity to study the European Union's political and economic structure while living abroad in Freiburg, Germany. With her professional experience combined with fun personality, Katie continues to enhance our client's planning experience.